A Few Words About Who we are
The company was started over twenty years ago having an understanding of the oil analysis industry and the value in it, realizing there needed be a way of controlling the way contaminants were introduced into the oil and it should begin at delivery. We found that a good portion of contamination began on the way lubricants were stored, and dispensed.
This began the concept of starting the process with new oil. Clean oil rooms, oil room policies and we were first to develop filtered dispensing into closed containers.
In service oil always needs attention, to extend the life of the lubricant, so we designed safer, easier to use filtration equipment.
We have been designing custom designated filtration/dispensing equipment for extremely valuable assets owned by our clients for over twenty years.
We work with our clients on every level to establish their needs and develop custom, standard CSA approved equipment that exceeds what others supply off the shelf.
We are dedicated and very proud of our accomplishments over the years.

Leaders in Lubricant Contamination Control
Controlling Contamination is key in extending oil life in rotating equipment.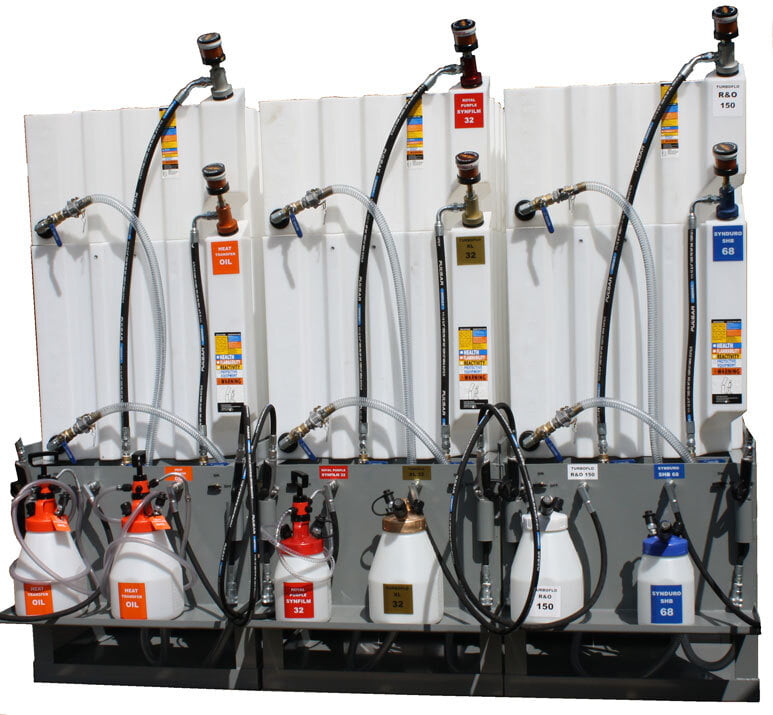 Filtering new oil to be dispensed through top up containers optimizes the cleanliness of the lubricant. All of our systems use a 10 micron water removal filter on the first stage and then a 4 micron BETA 1000 or 2000 particulate filter on the second stage. Our most popular system is our Flagship Wall mount drum dispenser (pictured above). Some clients have small footprints to use for oil dispensing, so we are pleased to work with them to design a multi stage system, where the oil is filtered going into the tanks and then filtered again while dispensing into top up containers (pictured to the left).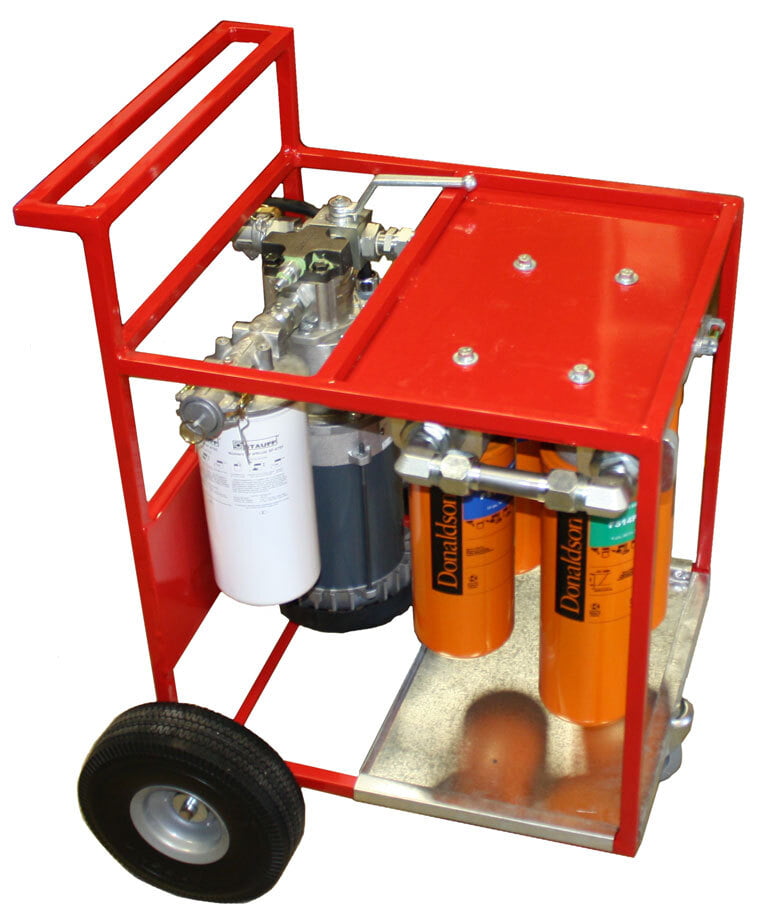 Portable filtration is often needed especially for critical equipment. Most off the shelf carts are less effective for cleanliness and are cumbersome to the worker. We created a filter cart that is virtually impossible to tip over, rolls around easily and very simple to use (pictured left). Using the same filter configuration for optimal cleanliness our systems can reach an ISO cleanliness code of 16/14/11. One of our customers needed a multi use system where waste oil extraction and new filtered oil insertion all in one unit is required. It was built for quick oil changes in reservoirs up to but not limited to 200 Liters, of course we were able to design and build it. (pictured top right)
All of our systems are available in standard electric, class I div II explosion proof or pneumatic (different speeds and flow rates are available upon request)